Birth of a Legend
Every legend has a birth place. Salvatore Capezio was born in 1871 in Muro, Lucano Italy. Although his home was picturesque, he was craving something more. After training as a cobbler in Italy, he immigrated to the United States. At just 17 years old, Salvatore Capezio opened a small shoe repair shop only a few pirouettes away from New York's old Metropolitan Opera House. The sign above his door read, "The Theatrical & Historical Shoemaker." He began his business by repairing theatrical shoes for the Met. Salvatore quickly made the transition from cobbler to shoemaker when he made an emergency pair of shoes for Polish opera star, Jean de Reszke. He discovered pointe shoes to be a challenging balance between delicate construction and complex engineering. In turn, his customers discovered that few shoemakers were as determined as Capezio to take on that challenge.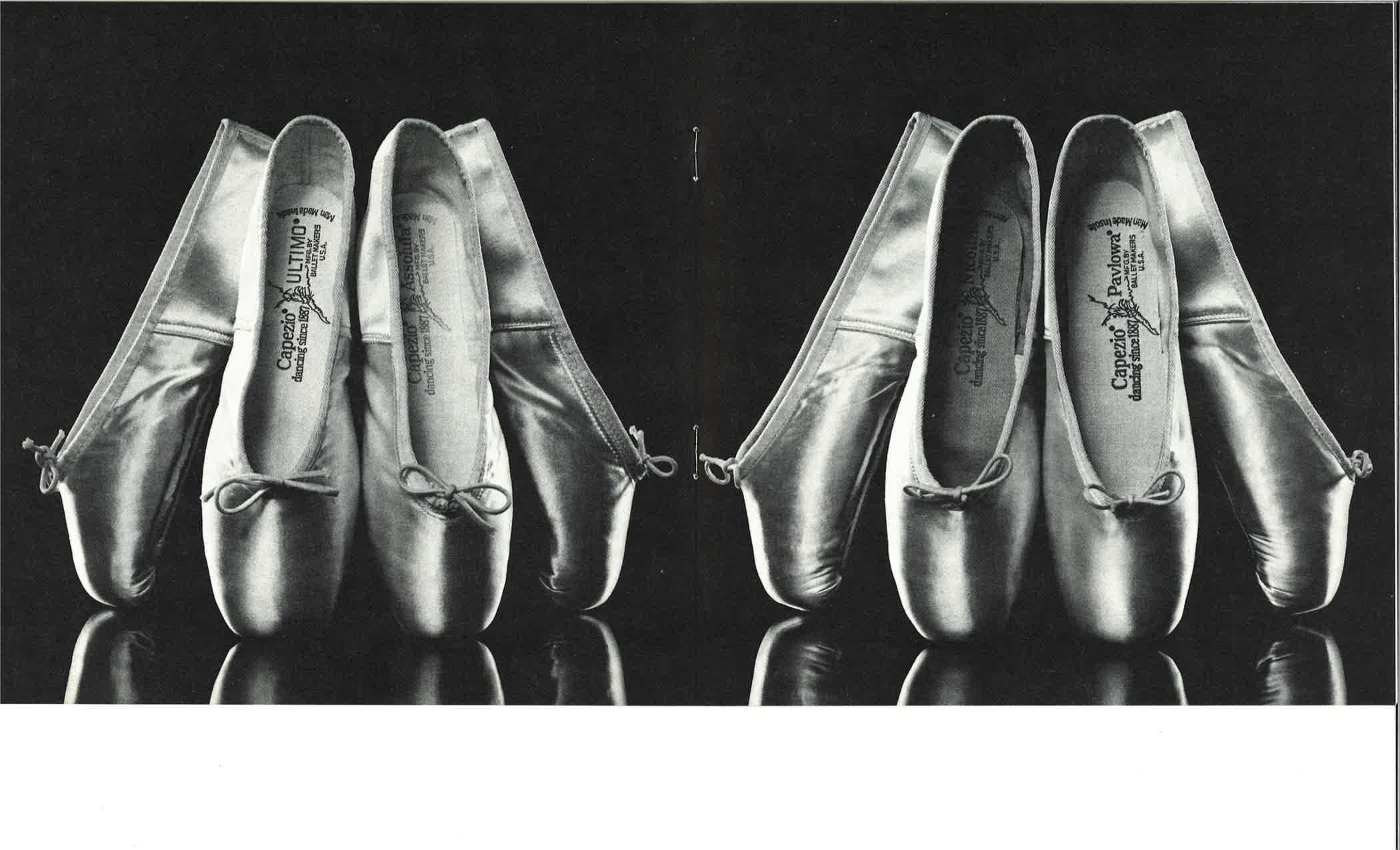 Official Pointe Shoe Maker
Salvatore Capezio was appointed as the official shoemaker for the Metropolitan Opera House after his shop became a meeting place for dancers to discuss their shoe needs. One dancer in particular, Angelina Passone, dropped in one day to discuss her shoe needs and ended up becoming the wife of Salvatore Capezio. Who knew passion for shoes could turn into passion for the shoemaker?
Dancer Notoriety
The world's leading ballerina, Anna Pavlova, purchased Capezio pointe shoes for herself and her entire company during her first tour of the United States. Her generous praise of Salvatore's work ensured Capezio's success. In order to properly thank her, Salvatore designed a special pointe shoe and named it, "The Pavlova."
Broadway Recognition in the 20s & 30s
By this time, Capezio had become a family operation whose footwear was featured on Broadway in Ziegfeld Follies in 1923. Dozens of other musicals soon followed Ziegfelds' footsteps and featured Capezio footwear on stage. To pay tribute to Capezio's Broadway beginnings, we have a whole wall filled with custom Capezio shoes on display at our New York flagship store today.
1st Fashion Feature
Designer Claire McCardell featured the Capezio long sole ballet shoe with her fashion collection in 1941. The enthusiastic response provoked Lord & Taylor, Neiman Marcus and other major stores to purchase and promote Capezio footwear in the 1940s. This snowballed until eventually Capezio made the cover of Vogue in 1949.
Ben Sommers & The Creation of The Leotard
After Salvatore Capezio's passing in 1940, Ben Sommers became the president of Capezio. Sommers started off as a stock boy at Capezio at the age of 14 and worked his way up to become the president by 1940. One of his earliest achievements was supplying shoes for the above-mentioned Ziegfeld Follies Broadway production. As dance was growing in popularity, Capezio decided to launch dancewear, which included the first version of the modern leotard.
The Capezio Dance Award & The Capezio Foundation
The Capezio Dance Award was established in 1952 to honor those who make a long-standing and significant contribution to dance. A year later, The Capezio Foundation was established to help promote and recognize ongoing achievements in dance. Today, the Foundation continues to administer the awards program and operates a grant program for non-profit organizations.
Estelle Sommers & The Creation of Spandex
Estelle Sommers, wife of Ben Sommers, was a dance philanthropist who was heavily involved in Capezio. In addition to administering the Capezio shops across the country, Mrs. Sommers owned and managed the Capezio Fashion Shop in New York City from 1964 to 1975. Along the way, she introduced Antron-Lycra/Spandex into Capezio's dancewear, which revolutionized the industry.
Ben's Legacy
In 1978, the same year Ben Sommers managed to persuade the United States Postal Service to issue stamps commemorating dance, he established National Dance Week, followed by International Dance Week in 1985. Unfortunately, Ben was unable to see International Dance Week really flourish due to his unexpected passing in 1985. He passed away shortly after he attended the 1985 Capezio Dance Awards Ceremony.
MTV & Magazines
When MTV hit the airways, Capezio was leading the way with shoes, leos, dance tights, bags and legwarmers in popular demand by rock idols, models, pop stars + more. Capezio also continued to grace huge Magazine publications like Elle and Cosmopolitan. Publications that are still relevant to this day!
Estelle's Legacy
After her husband's passing, Estelle continued her missions in dance. Mrs. Sommers was best known in the dance world for the energetic way she lead a wide variety of causes and organizations in the United States and abroad. In 1988, she joined the overseers board of the Jacob's Pillow Dance Festival in Becket, Mass., which named a studio in honor of her and her husband. She also served as the United States chairwoman of the International Committee for the Dance Library of Israel, which presented her with its documents of dance award in 1993. She was also on the board of the Dance Notation Bureau (and was the recipient of its annual award in 1991), the America-Israel Cultural Foundation, the Center for Dance Medicine, the International Ballet Competition U.S.A., the International Dance Alliance, the Joffrey School of Ballet, the Harkness Center for Dance Injuries, the Israeli Dance Institute and the Yard, a summer choreographic workshop on Martha's Vineyard. On top of all of her philanthropic work, Estelle remained personally and professionally involved with Capezio until her passing in 1994.
More Celebrity & Magazine Features
Cosmopolitan, Lucky, Seventeen, YM, ZooZoom and Bust all featured Capezio products in their December 2003 issues! Products ranging from bodysuits, Dansport ballroom shoes, tights and even skating apparel. American Baby featured a Capezio tutu dress on the front cover of their December 2003 magazine. It really doesn't get cuter than that. Capezio remains an icon in fashion as well as dance. Celebrities such as Taylor Swift, Lady Gaga, Beyonce and Maddie Ziegler have all supported the brand by wearing Capezio.
Today
Capezio is the name that continues to make the world dance. With over 130 years of quality craftsmanship, dedicated customer service and timeless design, Capezio is the brand of choice for athletes and performers across the globe. As Capezio continues to evolve into the lifestyle category, it is these artists who will champion the brand among dancers and non-dancers alike. Today, we are #CompletelyCapezio and our story continues.